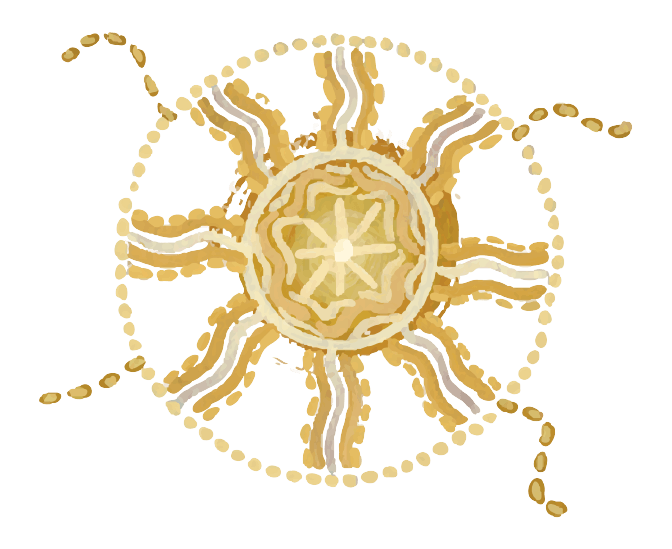 Australia – New Zealand
Watch Lord of the Rings and you will know New Zealand:  snow-capped volcanoes, kauri pine forests, craggy mountains, rolling emerald hills and bubbling geysers.  Combine the country's natural beauty with native Maori performing the haka, fearless bungy jumpers (could be you!) and the fun Hobbiton film set, and you've got New Zealand in a nutshell.  Then hop on a plane to Australia for dramatic change of scenery:  jungle-draped canyons, tropical waterfalls hidden in the rainforest, and the azure waters of the Great Barrier Reef, capped with a visit to an outback cattle station in the classic Aussie outback.  Friendly local guides show you the best of both nations, sure to be the adventure of your lifetime.
Location
Cairns, Australia
Size
Minimum 10 paying participants
Price
$3994 AUD per person (including GST)
for 15 or more students (Add $50 per person for peak time of 15 June – 15 July)
Price
$4088 AUD per person (including GST)
for 10-14 students (Add $50 per person for peak time of 15 June – 15 July)
Details
Swim with dolphins in The Bay of Islands
Sand board down giant dunes
Go "black water rafting" in Waitomo's labyrinthine cave system
Tour The Shire at Hobbiton – Lord of the Rings movie set
Take the plunge with an optional bungy jump
View New Zealand's famous glowworms, kiwi, and sheep of course
Snorkel at The Great Barrier Reef
Outback cattle station: wild kangaroos, cow milking and whip cracking
Natural rainforest waterslide and waterfalls
Wildlife park and cuddle a koala
Maori and Aboriginal culture, art and performance
All activities and entrance fees as described in the itinerary
Professional guides and educators
Auckland airport transfers
Cairns airport transfers
Transportation to activities
All continental breakfasts
All lunches (except on Day 8 – travel day)
All dinners (except on Day 11's "free choice" night)
2 nights Paihia lodge (dorm-style lodge)*
1 night Pakiri Beach lodge (dorm-style lodge)*
1 night Waitomo hostel (dorm-style lodge)*
1 night Rotorua lodge (dorm-style lodge)
1 night Rotorua lodge (dorm-style lodge)*
1 night Auckland hostel (dorm-style lodge)*
4 nights central Cairns hostel (dorm-style rooms)*
1 night at outback cattle station (dorm-style cabins)*
1 night Cairns Highlands cabins (4-share cabins)*
101 Animals of the Wet Tropics field guide for each student
Mask, fins, snorkel and wetsuit/stinger suit hire on the reef trip
Reusable water bottle and cloth shopping bag to take home
Marine park and national park fees
5 metres square Daintree rainforest plot adopted in your group's name and certificate
Coral adoption through Reef Restoration Foundation with updates on the progress of the coral
*Two teacher rooms (private twin or triple share rooms) are included in the trip price for groups of 15 students or more. For trips with low numbers (10-14), one teacher room is included. A supplement of $789 AUD is charged if an additional private room is required for the trip. If teachers are happy to share a room, no additional costs are incurred.
Small World Journeys reserves the right to change the order of activities for logistical reasons. Prices are valid for travel until 31 March, 2021.
Airfare to/from New Zealand and Australia
Travel insurance (highly recommended)
Lunch on Day 8 and dinner on Day 11
Personal expenses (phone, laundry, etc.)
Itinerary
Arrive and Transfer:  You arrive in Auckland and are warmly greeted by your guide at the airport. You then travel north to Paihia, gateway to the Bay of Islands and the "winterless north".  (Departing airport at 8:30 am)
Maori Meeting House and Waitangi Treaty House:  Your first introduction to the culture of New Zealand's indigenous people – the Maori – begins at a traditional carved wood wharenui (meeting house) at Waitangi.  You follow in the footsteps of Maori chiefs and a lone delegate of the British crown, learning of treaty controversies and why this is the birthplace of New Zealand as we know it.
Kayak the Waitangi River:  In the care of experienced instructors, you kayak among the mangrove trees and up the picturesque and gentle Waitangi River to the Haruru Falls, meaning "thundering noise" in the local Maori language.  [Note that this activity will not be possible if Auckland arrival is not in the early morning]
Games and Orientation:  As part of your welcome to New Zealand, you receive an orientation and participate in some fun ice breaker games with your guide.
Accommodation: Paihia Budget Accommodation
Included: Dinner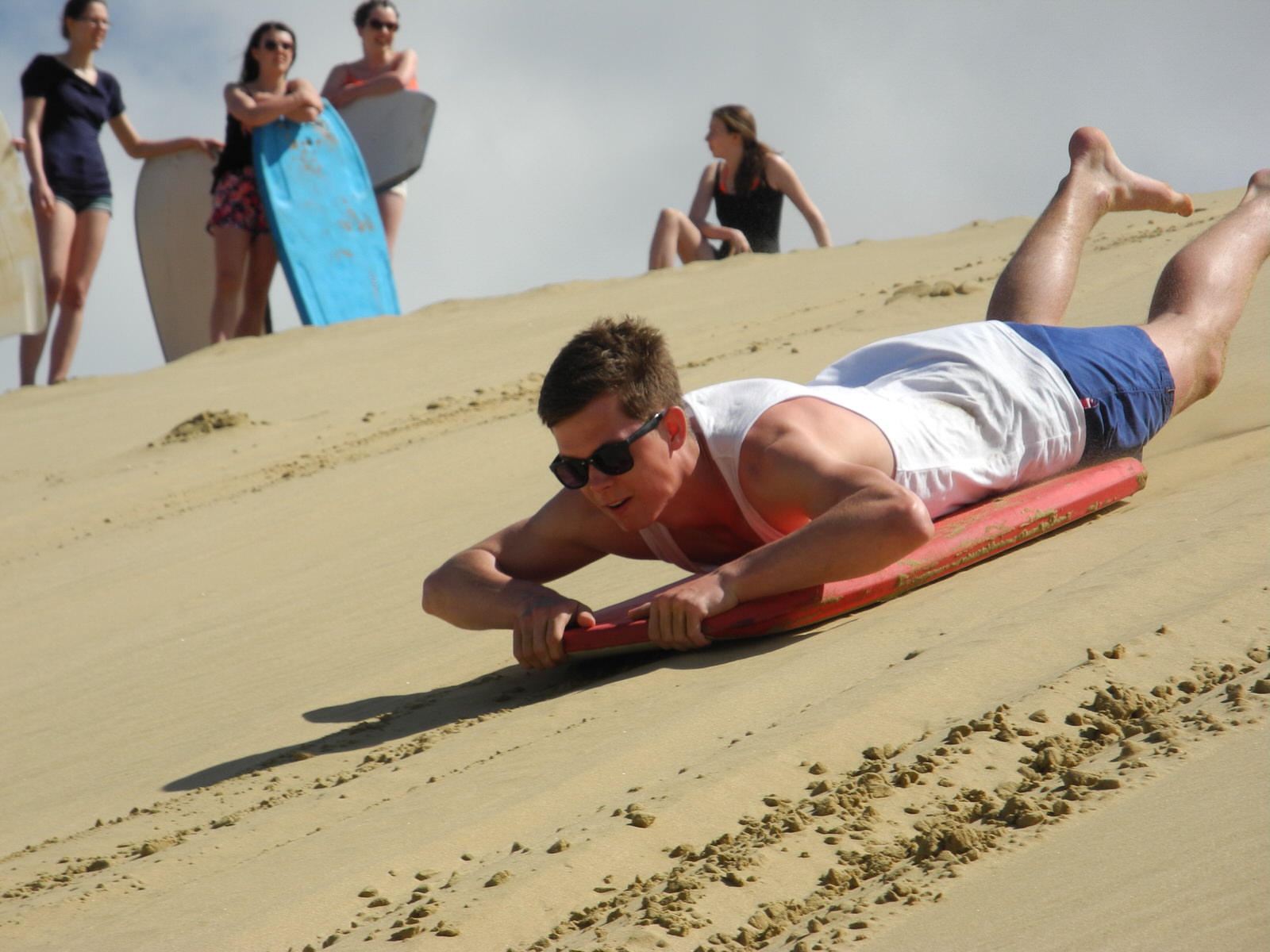 Kauri Forest: This morning you travel to Puketi Kauri Forest, named for the grand evergreens that grace this part of New Zealand.  You trace a boardwalk that winds among these gentle giants, listening for fantails and wood pigeons cooing. This is one of the last remaining swaths of kauris, prized by settlers for their tall straight timber.
Mangonui: Once a port for whalers and traders, the historic town of Mangonui is your next stop for morning tea at a café and a comfort stop.
Cape Reinga Sand Boarding: Craggy windswept headlands tumble into the sea at New Zealand's tip, where, according to Maori legend, souls depart the earth on their way back to their original homeland of Hawaiki.  You experience a different kind of descent with a "sand surfing" lesson and an exhilarating plummet down massive dunes on a body board.  Always a highlight for students!
90 Mile Beach:  Later you enjoy a frolic on the sweeping 90 Mile Beach, which, true to its name, offers up an expanse of sea, surf and sun.
Accommodation: Paihia Budget Accommodation
Included: Breakfast, Lunch and Dinner
Bay of Islands Cruise: 144 tiny islets dot The Bay of Islands like a necklace of green gumdrops, and this is one of New Zealand's most enchanting sites.  You hop aboard a cruising vessel that takes you around the Bay, weaving among a tapestry of dappled scenic vistas.
Dolphin Watching/Swimming:  The Bay of Islands also happens to be a favourite playground of the lively bottlenose dolphin. While there are no guarantees of sightings, on occasion there is a possibility you're able to enter the water with these magical and intelligent creatures for a swim.  This is a once-in-a-lifetime experience with wild dolphins.
Russell Village:  Next you enjoy some free time in sweetly historic Russell, former capital of New Zealand. Sipping tea at an outdoor café, strolling tidily trimmed gardens or browsing gift shops of hand-made crafts, it's easy to forget this town was once dubbed "the Hellhole of The Pacific."  The town abounds in tales of rough whalers and boozy sailors, convicts and prostitutes, doing dirty deeds in a place Charles Darwin said attracted "the refuse of society". Odd reminders of an unsavoury past include New Zealand's oldest church that's riddled with bullet holes. You return to the mainland by ferry.
Pakiri Beach: You travel south again today to stroll along beautiful deserted Pakiri Beach, over white sand dunes and through lush pohutukawa groves, with magnificent views of Little Barrier and the Hen & Chicken Islands.
Accommodation:  Pakiri Beach Motor Camp
Included: Breakfast, Lunch and Dinner
Waitomo Glow Worm Caves & Walk: With your guide you creep through craggy caves to view some of New Zealand's most unusual creatures – glowworms – that catch food through bioluminescence and make tiny twinkles in the darkness. A stunning short walk follows this activity that takes you through collapsed limestone cave system.
OPTIONAL Black Water Rafting* and Glowworm Caves: If you are a little more adventurous, you can opt for Black Water Rafting! You don thick wetsuits and "miner's hats" for a thrilling adventure underground. You descend into a labyrinth of limestone caves, carved by a rushing stream that carries you and your inner tube along with it. Professional guides lead you into a lost world of underground waterfalls, cathedral ceilings of stalactites and hidden passageways. Travelling deep into this cave system is the only way to view the most magical site: glowworms that light up the caves like the Milky Way. Your adventure ends with warm soup and bagels and a chance to view the photos your guide took of you in the caves. (*extra cost of 155 NZD)
This evening you stay in the hills of the tiny hamlet of Waitomo, translated from Maori meaning "water passing through a hole".
Accommodation:  Waitomo YHA
Included: Breakfast, Lunch and Dinner
Tongariro National Park:  Today you travel south into Tongariro National Park which reveals a mosaic of environments: sub-tropical rainforest with green Crown Ferns and delicate orchids, silver and mountain beech forests, and a sub alpine environment with bluegrass and curled leaved neinei.  On a clear day, both Mt. Ruapehu and Mt. Ngauruhoe (the conical "Mt. Doom" to Lord of the Rings fans!) dominate the skyline.
Hike at Lake Rotopounamu: You start today with a stunning but easy hike around a crater lake that stands in the shadow of Mt Ruapehu, one of the world's most active volcanoes and the North Island's highest mountain.
Huka Falls:  Some of New Zealand's most spectacular falls! On its way to Lake Taupo, the Waikato River funnels a massive amount of water through a narrow chute of 15 metres as it crosses a hard volcanic ledge, spilling churning falls into a crystalline pool.  You view the falls from an easy walk over a footbridge.
Honey Hive: Later at the Honey Hive, you learn of the importance of bees to the ecosystem and view the busy bees from behind the glass.  Samples of their hard work sit out for you to taste and touch:  honey ice cream, honey skin products and of course, spoonfuls of straight honey itself.
OPTIONAL Bungy Jump:  New Zealand made famous this adventure sport, which has now become an iconic experience in the country.  Watch jumpers as they plummet into from a lofty perch on a platform above the lake or choose to take the plunge yourself!  (jump is extra cost of $185 NZD)
Hot Pools Soak: Next at DeBretts you soak in deliciously warm pools at a natural 'hot spot' – a geothermal spring known as Onekeneke.  Try for yourselves the magical mineral powers of the spring, a site whose healing effects locals have sworn by for years.
Accommodation: Silver Fern Lodge
Included: Breakfast, Lunch and Dinner
Wai-o-Tapu Thermal Wonderland:  This morning you visit New Zealand's most colourful natural volcanic environment. Its unique features include the world famous champagne pool, geysers, bubbling mud, steaming ground, huge volcanic craters and silica terraces.  A highlight is swimming a freshwater stream naturally heated by geothermal water on the Wai-o-Tapu field.
Rotorua:  Today you travel to the "bubbling" town of Rotorua, which is synonymous with thermal activity.  For sizzling displays of thermal magic, this town does not disappoint; this is one of the most geologically active places on earth.  Let your feet dance on naturally heated earth, watch geysers spurt, and soak your body in hot pools nestled among the ferns.  Here Maori culture reigns; this is the cultural heart of Aotearoa (translated as "Land of the Long White Cloud").
Te Puia – Whakarewarewa Volcanic Valley: Later you explore the Whakarewarewa Geothermal Valley, where the Pohutu and other geysers dazzle you with their grand sprays of steam. Here a mosaic of geothermal features also includes Prince of Wales Feather geyser, "The Blue Pool" and a host of gurgling mud pools.  You learn how Maori people used some of the pools for cooking vegetables and eels from the local river, a practice done for centuries. You can find the country's elusive national bird–and as a New Zealander is affectionately called—the kiwi, also at Te Puia.
Maori Crafts, Games, Cultural Show & Hangi: An evening at Tamaki gives you an authentic introduction to Maori culture.  Maori warriors first determine whether you are friend or foe in a sacred ceremony, and then welcome you into their village.  At different huts among the pines you learn how the Maori keep their culture alive through dance and play:  you can try intricate poi twirling, a standing stick game, or the haka – a warrior intimidation dance. The highlight is an all-you-can-eat hangi, a traditional underground-cooked Maori feast and the singing of Maori songs.
Accommodation: Rotorua Four Canoes Lodge
Included: Breakfast, Lunch and Dinner
Velocity Valley: This is your last chance to try up to four of New Zealand's most iconic adventure activities:  "The Swoop" sky swing, Agrojet, Zorbing, Shweeb Racing on a suspended monorail, or Freefall Xtreme – a wind tunnel experience similar to Tom Cruise in Mission: Impossible. (Options are extra cost:  2 rides $85 NZD; 4 rides $129 NZD)
Hobbiton Movie Set Tour:  Follow in the footsteps of Frodo and Bilbo Baggins into the miniature world of The Shire, the home of hobbits.  Whether you have seen the Lord of The Rings trilogy or not, you will undoubtedly appreciate the efforts that went into the creation of this elaborate outdoor movie set from a still operational sheep farm.  From a giant tree whose thousands of leaves were glued on to the tiny pottery of a hobbit craftsman, careful attention was paid to infinite details.  Your guide entertains you with tales of what went on during filming, and how director Peter Jackson created illusions through the camera.  At the end of the tour, you cross a stone bridge to the true-to-life Green Dragon Pub. You can imagine yourself among dwarves and wizards as you sip sweet ginger beer.
Return to Auckland:  You return to Auckland, "City of Sails" and have the evening for souvenir shopping and a delicious dinner.
Accommodation: Auckland YHA
Included: Breakfast, Lunch and Dinner
Flight to Australia & Orientation:   You are transferred to the Auckland airport this morning for your flight to Australia. You arrive in Cairns and are warmly greeted by your guide at the airport.  You are then transferred to your accommodation
Dangerous Animals Presentation:  Next you partake in a lively presentation about the myths and realities of Australia's dangerous animals.  Which kills more people in a year – sharks or coconuts?  What type of snake strikes multiple times? What's the difference between a "freshy" and a "salty" crocodile and who would you rather swim with?  These questions and more are answered in a fun interactive session that introduces you to Australia's famous and not-so-famous creatures.
Esplanade, Swimming & Night Markets:  As a group you walk to the Esplanade where you have an orientation and time to swim in the giant lagoon.  Later tonight you have time for shopping at the Cairns Night Markets.  You can find opals, pearls, silver, clothing, massage oils, t-shirts, arts, crafts, Australian food products, toys, and plenty of souvenirs and gifts.
Accommodation: Cairns hostel
Included: Breakfast and Dinner
Wildlife Dome: Your first experience is the Wildlife Dome, where birds, reptiles and small mammals roam free inside a giant aviary enclosure. You can walk freely among the animals and view the Dome's massive crocodile from a safe lookout. And for those of you who have always wanted a photo with a koala – here's your chance!
Outback Cattle Station: Next you travel from Cairns into classic outback country, where the dirt is red, kangaroos roam freely and "jackaroos"(Australian cowboys) muster their cattle. Here you are welcome guests at a family-run traditional working cattle station and homestead, opened only to your group. You have a tour of the station via hay truck during which you look for wildlife, followed by a classic Aussie BBQ.
Boomerang Throwing: Yes, they actually come back to you! Your guide teaches you the significance of the boomerang and how they were cleverly used for hunting. You learn proper throwing technique and what makes them return.
Farm Stay BBQ and Stargazing:  Your single-gender cabins have bunk beds, all linen, and toilets & showers in an outside block., followed by a bonfire and stargazing.
Accommodation: Outback Cattle Station
Included: Breakfast, Lunch and Dinner
Farm Activities & Sustainable Efforts: This morning you get a sample of true outback life on a cattle station. You visit the cattle yards to learn about the cattle musters and branding, and what this robust rural family does to survive flooding, and drought. You also learn the efforts the station is making to reduce fine sediment runoff to the Great Barrier Reef and why the station is considered a Far North leader in protecting the Reef.
Cow Milking, Animals and Whip Cracking: Here you can visit the goats and chickens, learn how to milk the cows and crack a whip properly in true cowboy style. You also take a walk back through time on the homestead to the age of the early Australian pioneers, and you can touch the old furniture, trinkets and memorabilia all well-preserved by the family.
Skyrail Rainforest Cableway: Back on the other side of the Great Dividing Range, you ride on the region's premier eco-attraction. Spanning 7.5 kms over Barron Gorge National Park, the Skyrail experience includes a scenic cableway ride and stops at two rainforest mid-stations. You can descend from the cableway onto rainforest boardwalks, where interpretive information is provided through guided boardwalk tours, signage and an interpretive centre.
Future of The Reef Talk: In the evening back in Cairns you attend a unique presentation on the future of the Great Barrier Reef.  Your marine naturalist teaches you the facts about the state of the reef, dispelling myths about bleaching and climate change, and relays the good, the bad and the ugly about reef tourism. During this talk, you learn the four key threats to the reef and how scientists are trying "assisted evolution" by breeding corals that are resistant to bleaching under higher temperatures.  Perhaps most importantly, you gain ten tips on how you yourselves can help save the reef and continue campaigning when you return home.
Accommodation: Cairns budget accommodation
Included: Breakfast and Lunch
Boat Transfer to Green Island: The Great Barrier Reef—a UNESCO World Heritage Site— lies just off Cairns' coast. Today you travel to Green Island, a rainforest island on the inner Great Barrier Reef.  Here you can sunbathe, stroll the boardwalk in the national park, or walk right into the water for snorkelling.
Snorkelling: Snorkellers will find most of the abundant life and colours exist right beneath the surface here at the reef.  Within reach are giant clams, angel, butterfly and parrot fish, turtles, sea stars and corals of a thousand hues.  Among the 1,800 species of fish and 450 species of coral, you can expect to see Wally the giant wrasse, fan corals, sea cucumbers, stag horn coral gardens and just about the entire cast of "Finding Nemo".
Glass Bottom Boat & Field Guide: For those who prefer not to swim, you can opt for a glass-bottom boat ride instead.  Your captain provides commentary, and you get a fantastic look at all of the reef creatures without having to even get wet.  A field guide for the creatures at The Great Barrier Reef is included in your trip so that you better understand the creatures you're looking at (and the book makes a great souvenir!)
Buffet Lunch: Included today is a buffet lunch with different types of salads, bread, fruits, and hot dishes like noodles and curries. On the ride back, look for dolphins playing in the wake of the boat, and in the winter months minke and humpback whales can also appear.
Optional Evening Activity – Documentary Film: Documentary films can inspire discussion and action, in addition to complementing the content of your trip. Tonight you have a choice to view one of several optional documentary films that relate to the environment (no extra cost).
Accommodation: Cairns budget accommodation
Included:  Breakfast and Lunch
Aboriginal Guided Rainforest Walk & Tree Kangaroo Spotting:  You continue on to a special swathe of rainforest an area important to the Ngadjon indigenous people. This highland rainforest boasts a rainbow of bird life and mammals and is the only region in the world to spot the elusive Lumholz tree kangaroo, or mupee.  Your local Ngadjon Aboriginal guide takes you into his country, and you listen to the lively stories of his ancestors, discover an explosive volcanic history and learn the regional "bush tucker" (food) that was yummy to eat.
Afterwards where the cool fresh waters of the North Johnstone River tumble over basalt lava flows at Malanda Falls, a freshwater pool beckons you for a swim.
Highlands Cabins: Later you settle into your dorm-style accommodation next to a gorgeous waterfall.  Cabins with shared bathrooms are split by gender, and teachers have their own cabins nearby with ensuites, small refrigerator, and tea & coffee making facilities.
Platypus Spotting and Glowworms: Near sunset with your guide you can look for the elusive platypus that swims in the property's stream, and after dark you can also creep down a path through the rainforest to view some of Australia's most unusual creatures – glow worms – that attract mates through bioluminescence and make tiny twinkles in the night.
Accommodation: Highlands Cabins
Included: Breakfast, Lunch and Dinner
National Park: This morning you enter Wooroonooran National Park—a diverse part of the UNESCO Wet Tropics World Heritage Area which hosts some of the oldest continually surviving rainforest in the world.
Josephine Falls: One of the most picturesque places in the entire Wet Tropics! You take an easy walk through the jungle, listening for the call of the king parrot and the bowerbird and emerge at Josephine Falls, where Josephine Creek plunges down a gorgeous set of cascades. Below the falls, boulders surround a fun swimming hole and a natural water slide down a smooth sloping rock face.
Millaa Millaa Falls:  First up you visit Millaa Millaa Falls, the icon of tropical north Queensland and one of the most photographed natural sites in the region.  For those who are keen, you can swim out to the peculiar columnar basalt and view the falls the falls from behind – a perfect tropical swimming hole.
Beach BBQ Party: In the afternoon, you head to the beach for music, games and a BBQ dinner.  This is a fun way to end your trip and will give you a chance to recount your adventures over the past 2 weeks.
Accommodation: Cairns budget accommodation
Included: Breakfast, Lunch and Dinner
After breakfast this morning you have free time for last-minute shopping or souvenir purchases.
Optional Service Project: Alternatively, you can participate in a service project for the homeless by making special bags for a local charity using upcycled materials (which helps them save money!) You then put it the bags food and hygiene items most needed by those living on the street.  Rosies Friends on The Street is a not-for-profit organisation that will then distribute the packs you make.  In addition, a representative from Rosies will speak to you about how members of the Cairns community become homeless, and how your gift will help. No worries if you aren't the best at arts and crafts – the bags are easy to make, and you'll feel good doing it too (on request, no extra cost).
Then you are transferred to the Cairns airport for your flight home.
Included: Breakfast
"Thanks for helping our students learn more about Australia so they can dive into their paper this fall. Rick and Dave [guides] were great! I would love to see them again. [With the accommodation] I think the professors were spoiled! I think I gained weight on this trip–thanks for keeping snacks for us and our students and even taking us to impromptu ice cream adventures. Excellent value. Great people and attention to detail. We loved the adventures you all planned for us. We/I really appreciate the hospitality we had from Small World Journeys. I truly believe I have made friends!"
–Emily Hartman, professor, St. Edwards University, Texas, USA (July '16 )
How Your Trip Makes The World A Better Place
We're not talking rainbows and unicorns. We're talking about how we have put significant thought into how to make our student tours as safe as they possibly can be while still being fun; encouraging students to learn about and contribute to the community they are travelling in; and teaching them what "sustainability" really means.
Sustainability
Although we wear bras and brush our teeth, you could say we are a team of hippy tree-huggers. This is why we run our office on renewable energy, voluntarily offsetting our carbon emissions, and fulfilling our policy to give at least 5% of our annual net profits to local environmental and community organisations and charities. Here's what else we are doing:
Community
SUPPORTING OUR INDIGENOUS COMMUNITY: It is our policy to include a talk or an activity with an Aboriginal person on every trip we offer. By taking this trip, you are supporting grassroots indigenous tourism ventures and encouraging Aboriginal pride in culture. We are proud to say that in the financial year of 2018-19, we gave over $43,000 in business to Aboriginal-owned ventures.
Safety
SUPERB SAFETY RECORD: We've had thousands of students travel with us, and our safety record is excellent. Ask us for teacher references specifically regarding safety.
We do custom trips!

Still haven't found exactly what you are looking for? All our tours are fully customisable and can be catered to suit your time-frame, student interests and budget. A geography excursion to the Great Barrier Reef? A biology excursion to the Daintree Rainforest? An Aboriginal culture excursion? Our educational trips in Queensland and New South Wales are hand-crafted for those who cannot find exactly what they want from the inflexible set itineraries of large tour operators.

If you are looking for a science trip, ecology trip, Aboriginal culture, or just a sample of the best of Australia – we can help.